Journal Drawings by Gill McCowen
Bath, United Kingdom
---
Venezuela Travel Journal
Gina Kim writes, "These were all generated last year from a trip to Venezuela, and I took your book along with me (along with plenty of bug spray, of course). My absolute favorite way to record my travels are your little observation icons." You can see more examples of Gina's fine work on her website.
Journal Drawings by Gina Kim
Salisbury, Massachusetts
---
Metropolitan Museum Journal
Elaine Gongora writes, "I finally got ALL the colors for the four Triads. I have been so happy with the Full Spectrum and Earth Triads. I got half pans and glued them into an Altoid box to carry around for my journaling. (Now I bought a small (tiny) pallet for all twelve colors.) I was in the Metropolitan Museum painting a vessel from Asia and made the perfect black! It was a balancing act with my sketchbook and my paints but it worked. I have attached a scan of the journal page. The lady was colored with pencil. I took the Altoid box to France in October and was able to use the six colors for my sketches. You really hit the jackpot with these Triads."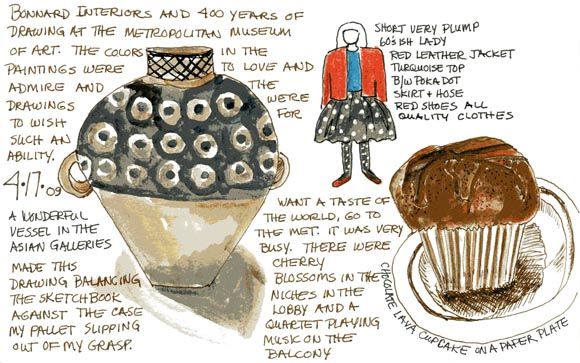 Journal Drawing by Elaine Gongora
New York, New York
---
Paint Past the Photo
One of the ideas in Art Escapes is to use a favorite photo as a starting point, then add, invent, embellish and extend beyond the four edges of the photo using watercolor. Louise Waters is an artist, photographer and teacher of art journaling on cruise ships. (And no surprise, she keeps no fewer than four journals simultaneously!). Louise combines her talents in these examples of painting past the photo. Louise comments, "Your book offers continuous help for any artist, of any level, time after time. So thanks."
| | |
| --- | --- |
| | |

Painting (left) and Journal Drawings by Louise Waters
Halifax, Nova Scotia
---
One Minute Drawings
I enthusiastically recommend quick sketches, when you let yourself draw without judging. Jeanne Henry is a workshop student who shows the potential for these One Minute Drawings--two of them later embellished with colored pencils. Jeanne's artistic talent extends well beyond One Minute Drawings; her website showcases her impressive ceramic art.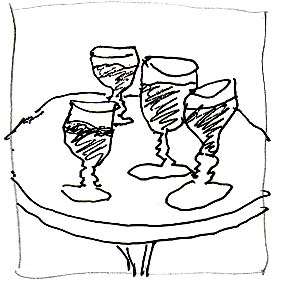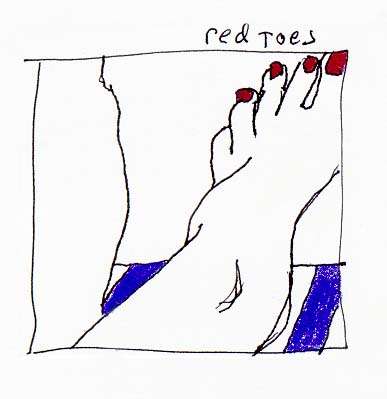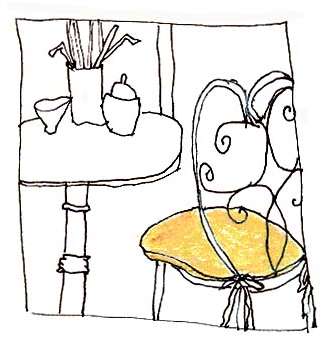 Journal Drawings by Jeanne Henry
Portland, Oregon
---
Enjoy more artwork by readers and workshop participants in my online gallery.